Helpful Links
Puppies:
http://www.topbrass-retrievers.com
Topbrass Retrievers
Our friend and probably the world's top breeder of performance goldens, Star & Rebel & now Crusier are all from Jackie !
Field Retriever Training Information:
http://totalretriever.com/
You should make this your primary source for information on training your own retriever for field work. This a guide to Mike Lardy's Videos and other information for training your retriever. Lardy is very gifted (If you are not familiar with these, do yourself a favor — get them! )
http://www.working-retriever.com/
A web-site that serves as a clearing house of information on all things retriever
Equipment: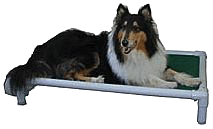 We use and recommend Kuranda Dog Beds
Click to visit Kuranda's web site
Veterinary Medicine:
http://www.offa.org/
Orthopedic Foundation for Animals
Dog Food:
http://eukanuba.com
We feed & inventory Eukanuba foods and believe them to be the best available
Organizations:
http://www.akc.org/index.cfm
American Kennel Club
http://www.ducks.org/
Ducks Unlimited
http://www.grca.org/
Golden Retriever Club of America
http://thelabradorclub.com/
The Labrador Retriever Club of America
http://www.masternational.com/
The Master National Retriever Club
http://www.nahra.org/
North American Hunting Retriever Association, an organization for testing and rewarding the hunting retriever
http://www.nra.org/
Home page of the National Rifle Association
http://saova.org/
Sportsmen's and Animal Owners' Voting Alliance (SAOVA) is a nationwide, nonpartisan group of volunteers seeking to elect politicians who will oppose the "Animal Rightist" The so called animal rights group do not want us training and breeding retrievers, lets keep them at bay.
Obedience Training:
http://www.birminghamobedience.com
Their slogan says it all "We train you to train your dog."
Supplies:
http://www.marksoutdoors.com
Mark's Outdoors is Birmingham's premier outdoors outfitter, If Mark's doesn't have it, you don't need it. Dyxie & I especially enjoy the knowledgeable staff that always seem to be able to find something that fits us and our needs perfectly. Something you just can't do out of a catalogue!
http://www.dogsafield.com/
A great place to shop for retriever training supplies, next day service if they have it in stock!
http://www.collarclinic.com/
The Collar Clinic — A Good place to shop for collars, or have to have yours repaired
http://www.dogstuff.com
Lots of neat dog stuff, check it out!
Hunting:
http://www.safari-in-africa.com/
Contact Tollies African Safaris for the time of your life. Operating in the heart of South Africa's Cape Midland Highlands, they offer a natural, wild life experience in an unspoiled, malaria-free area. Easily the best trip that Dyxie and I have ever taken. Let Tollie & Karen plan your trip of a lifetime!
http://www.ruskinpark.com If you have ever wanted to make a trip to South Dakota and chase wild pheasants in what is probably the best pheasant country in the USA then be sure to contact Ben & Helen Zoss. They have 4,000 acres adjacent to James River. This means when everyone else has a drought they will always have water. (important for bird populations)
Their lodge is nice and clean, the food is good they are only 25 miles from Mitchell and the wonderful Cabela's store (a must see). Your dogs are welcome and you will have a wonderful time!
Just tell them that Clarke & Dyxie said to come on!