Our Kennels
Let Your Pet Enjoy Its Vacation as much as You do Yours!
That has been our goal since we started in 2002. I think most of our regular customers would agree that we have been able to achieve this goal for their dogs.
If you are anything like us you would never leave your faithful friend stuffed in a small box while you are away enjoying yourself. Yet this is exactly what most boarding facilities offer.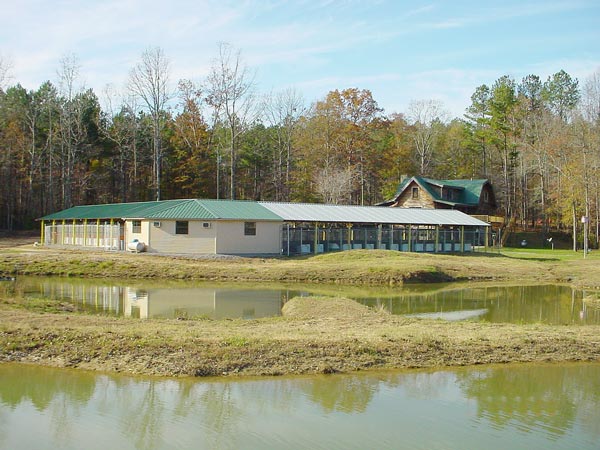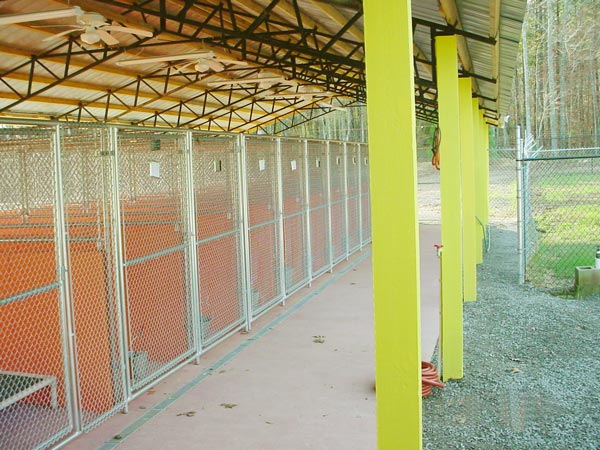 Dyxie and I really love the outdoors. We raise working golden retrievers and firmly believe that most dogs share our love for the outdoors.
Many of you have great memories of going to "camp" when you were children. Leaving home, going out in the country, swimming, hiking, and playing outside. This is exactly the kind of atmosphere we have created for your dog.
Don't send your pet to Puppy Prison, let it have the time of its life at our unique Puppy Camp: Kelly Run Farm.
It's not just another boarding kennel — it's a vacation for your pet.
Here is what Puppy Camp is like: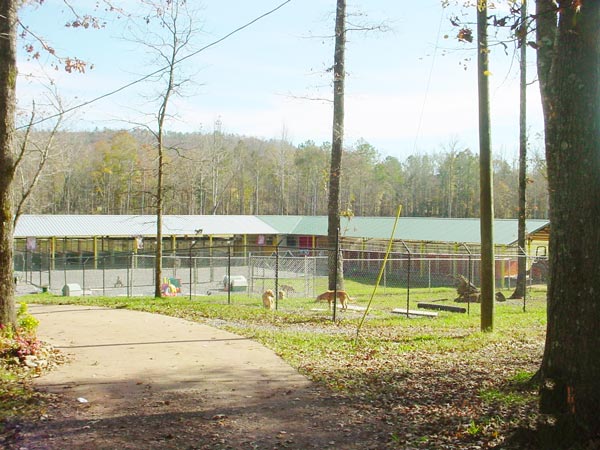 Large 4 x 15 foot runs. No small boxes here!
Each run is divided so no dog can intimidate another dog. Yet the runs are side by side and the dogs do get to enjoy the company of other dogs. And yes, dogs do enjoy each other's company.
We are small by design; all dogs receive individual attention. And while we are growing we never intend to get so large we cannot take proper care of your pup.
Old-time tin roof and ceiling fans keep your dog cool in the summertime and dry when it rains. During the hot summer months the dogs stay very comfortable, much like you or I sitting on the front porch, under the ceiling fan in the shade. The ducks nest right behind the kennel and the puppy campers can bark at and watch the ducks. They find this to be quite amusing reminding me of a group of cats watching birds play.
Each dog gets his own Kuranda dog bed to lounge on. (kuranda.com) All dogs, from the smallest Poodle to largest Great Dane love their Kuranda beds.


In order to insure your pet's comfort especially in the wintertime, we have installed the latest in heated and insulated doghouses — The Dog Den Two from the K-9 Kondo company (k-9kondo.com). These Camper Condos were designed to keep dogs in the bone chilling, northern climates cozy warm and they are way more than adequate to keep our southern puppies from getting chilled. These Camper Condos are very, very warm.

During the hot months we can open the back vent, prop open the door and the interior temperature stays within 2 degrees of shade temperature.
With 20 acres and four ponds your pup can enjoy his / her vacation as much as you do yours.
All dogs are exercised in the fenced exercise area a minimum of three times per day, usually more times than that. And on top of that we give them one good walk around the property and if weather and time permit we try and walk them again.

We feed Iams foods but we will be glad to feed whatever you bring.
For your protection and ours, all dogs must be current on vaccinations, bordetella (kennel cough) and be on heartworm and flea preventative (We recommend Frontline). This is only common sense and should be done whether he boards here or not.
While you are gone, your dog is our dog. We would like for you to think of this as a fun Puppy Camp where your dog can run, play, and visit other dogs. We will do all we can to ensure that your dog will enjoy their stay with us just as much as you enjoy your vacation.